Home
»
Uncategorized
» Cardiff Homeless Action event with Cardiff Squatters workshop and meeting
Cardiff Homeless Action event with Cardiff Squatters workshop and meeting
October 7, 2014

Posted by cardiff

under

Uncategorized

The Cardiff Squatters Network are running a workshop at the World Homeless Day event in Cardiff this Saturday at Cathays Community Centre.
The event is aiming to raise awareness and to get people involved in taking further action together with people who are homeless.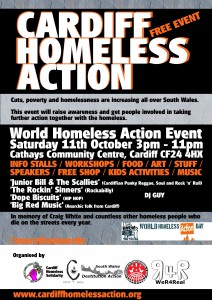 It's an all day event, starting at 3pm with workshops, free-shop, information stalls, activities for kids, art, music and free vegan food from Food Not Bombs.
There will be a workshop at the event at 4:30pm with a legal update on squatting as well as a question and answer session. We also propose to make the second half of this workshop the next meeting of the Cardiff Squatters Network.
There are other workshops on the day on substance abuse, creative writing for mental health, anti-bedroom tax campaigns, migrant destitution and dumpster diving (skipping).
For more about the event see: http://cardiffhomelessaction.org