People's Kitchen returns to Red & Black
This Tuesday 21st May from 6:30pm, the social centre will be open for the return of People's Kitchen.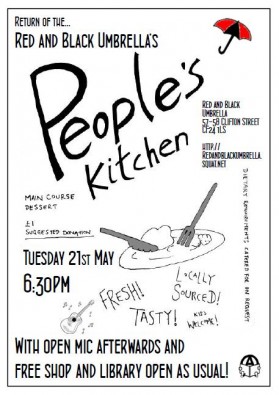 Everyone is welcome come and to share a hot vegan meal with us, served free from around 7pm.
Donations welcomed to cover costs. (gas, dry food etc.)
We will also open the free shop,  the library, info shop and bike workshop space and there will be an open mic afterwards for anyone who wants to bring an instrument etc!
This Tuesday we will also be discussing the setting up of a new local Catering Collective, and we're looking for people to get involved!
Under capitalism food is distributed according to privilege and sold for ever increasing prices. Those with enough privilege to access it have what they desire, whilst even in supposedly wealthy places many people suffer hunger and malnutrition. Our starting point is that food should be communal. We want to promote this in our work by catering for events, meetings, actions, demos etc. around the causes that we believe in. There is a plan to head to Calais, France, for a week in July already, but nothing is fixed just yet.
If you haven't been to the RBU yet this year, this would be a great night to come. We hope to see you there next week! Squeebz and co x