Social Centres Gathering 2014
October 29, 2014

Posted by cardiff

under

Uncategorized

Cardiff squatters are heading to Nottingham to share experience of setting up and helping to maintain squatted Social Centres in Cardiff, Newport and Swansea. This is after visits to the Cwtch Community Centre during very early Red and Black Umbrella days, and more recently supporting the Newport Action Centre – which has sadly had to close temporarily (more info about that coming soon with a statement from the squatters there).
The Social Centres Gathering 2014, at the Sumac Centre, Nottingham is "a weekend of talks and skill shares for anyone interested or involved in autonomous social centres".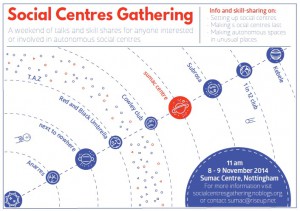 While not all Social Centres in the UK are squatted, many of them have a history of being opened as a squat (and then becoming owned or rented) or by squatters that looked for options that help to maintain community-orientated squatting.
We're hoping to hear more from people all over the UK and Dublin, and build stronger networks in the battles for autonomous spaces, taking derelict buildings and making them our homes and spaces of sanctuary and away from gentrification and oppression in 'normal' society.
Talks planned include:
Info and skill-sharing on
– Setting up social centres
– Making social centres last
– Making autonomous spaces in unusual places
as well as:
– Safer spaces
– Conflict resolution and solving general disputes
– Getting started / Problems and pitfalls when starting a social centre
– Making Social Centres in unusual places
– Building networks of support / Developing connections between Social Centres
– Issues around maintaining a Social Centre (visioning, decision making)
– Social centres and the neighbourhood / engagement or colonization?
If you want to know more, or are interested in coming with us to the gathering, you can email us on cardiffsquatters[@]riseup.net or reach us on our temporary phone: 07405 788 793
Long live squatting! Long live Social Centres!